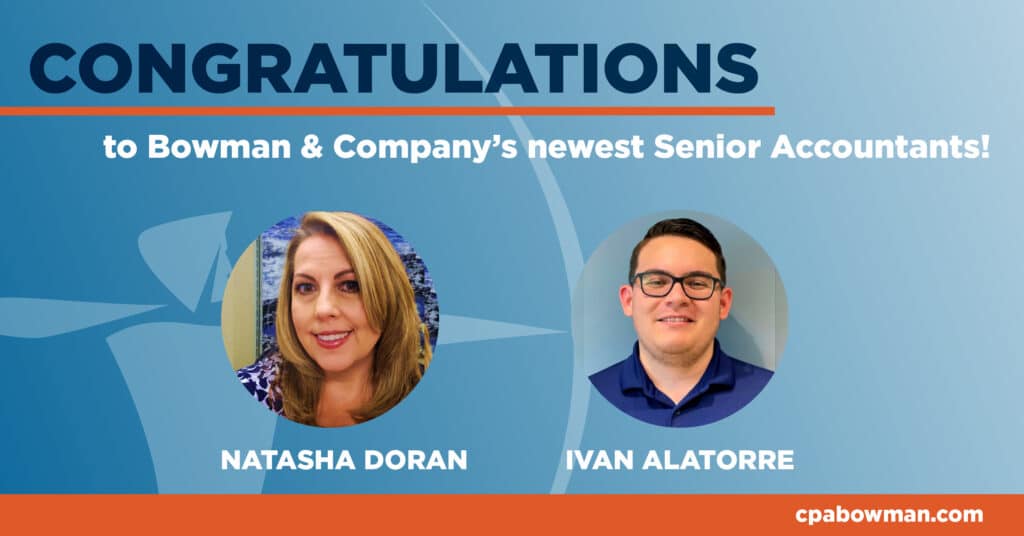 Bowman & Company is excited to announce the promotions of Natasha Doran and Ivan Alatorre. They will be taking on new roles and responsibilities as Senior Accountants.
Natasha has been in the accounting field for over 30 years and a member of the Bowman team for three and a half years. She remembers that prior to joining Bowman, many of her accounting questions were unanswered. When she started at Bowman, she was pleased at the many resources available to her, as well as the helpful team she worked with to gain additional knowledge and skill with higher level clients. Natasha specializes in Trusts, Tax and Client Accounting Advisory Services (CAAS). She remembers that working on Trusts was initially intimidating and now she handles them quite often. Natasha appreciates the flexibility at Bowman, which allows her to manage family needs. In her off time, you will likely find her on a beach in her favorite place, Hawaii.
Ivan began his career in the accounting field at Bowman and has been with the firm for one and a half years with Bowman. He attributes his success and career development to his ability to ask questions and not being afraid to fail. Ivan currently works in both Audit and Tax and enjoys the dynamics of each. A naturally quiet person, Ivan has learned the benefit of overcoming this challenge because when he interacts with his coworkers and peer and asks questions, he always learns something new. His motto is "just do it" (but we won't tell Nike). In his new role, Ivan is looking forward to higher level tasks and responsibilities, as well as being someone his coworkers depend on.
Congratulations Natasha and Ivan!