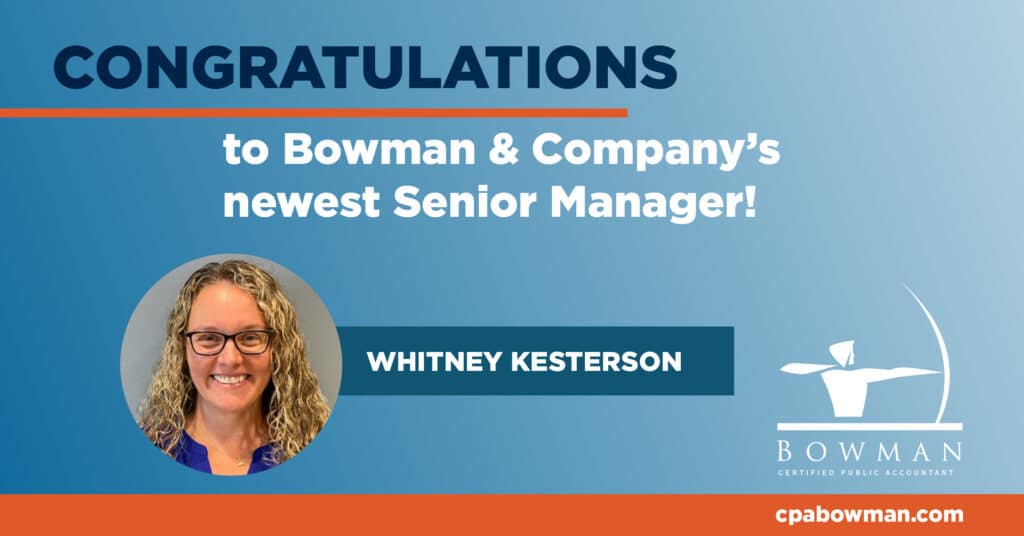 Bowman & Company is pleased to announce the promotion of Whitney Kesterson. Whitney takes on new responsibilities as a Senior Manager.
Whitney has 10 years of private industry accounting experience and 11 years of public accounting experience, of which five of those years have been with Bowman. Whitney attributes much of her career development to being proactive, learning and absorbing as much as possible and also becoming a SME (subject matter expert) in specific areas of accounting. Whitney's areas of accounting expertise are focused on audits of employee benefit plans, low-income housing and Title 31 (anti-money laundering) casino compliance. A career highlight for Whitney was her off-site visit with the Alliott Global Alliance and meeting professionals from all around the world.
In her new role, Whitney is looking forward to continuing to pursue learning opportunities and sharing her skill set as well as developing others and being a mentor to staff.
CONGRATULATIONS WHITNEY!