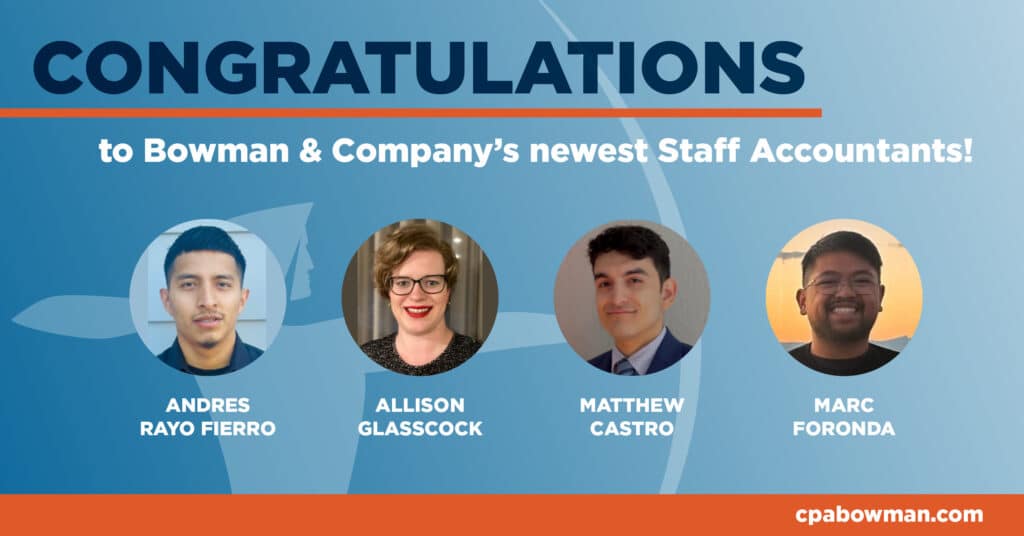 Bowman & Company is pleased to welcome Matthew Castro, Andres Rayo Fierros, Marc Foronda, and Allison Glasscock to their team. All four young professionals are joining the firm as staff accountants.
Matthew is currently finishing his Bachelor of Business Administration degree at California State University, Sacramento and anticipates graduating in December 2022. He has experience in the service industry and has been working at a winery and brewery as he pursues his accounting credentials.
A Dean's List honoree, Andres is graduating this year with a Bachelor in Accounting from California State University, Stanislaus. Andres has worked in the service industry while pursuing his accounting credentials.
A recent graduate of the University of the Pacific, Marc holds a Masters of Business Administration and Accounting. He served as the Vice President of Finance for Delta Sigma Phi Professional Fraternity while pursuing his degree. Prior to joining Bowman, Marc was working as a tax assistant with Foronda Tax Services.
A current student at California State University, Stanislaus, Allison anticipates earning her Bachelor of Science in Accounting in December 2022. She has made the Dean's List for multiple semesters while pursuing her degree. While attending school, Allison gained service industry experience, most recently while working at Bath & Body Works.
Welcome to Bowman & Company, Matthew, Andres, Marc, and Allison!